Our teachers participated in the 2017 "China - Mongolia University Meeting along
with the 14th Sino-Foreign Intercollegiate Exchange meeting of Study In China Admissions.cn"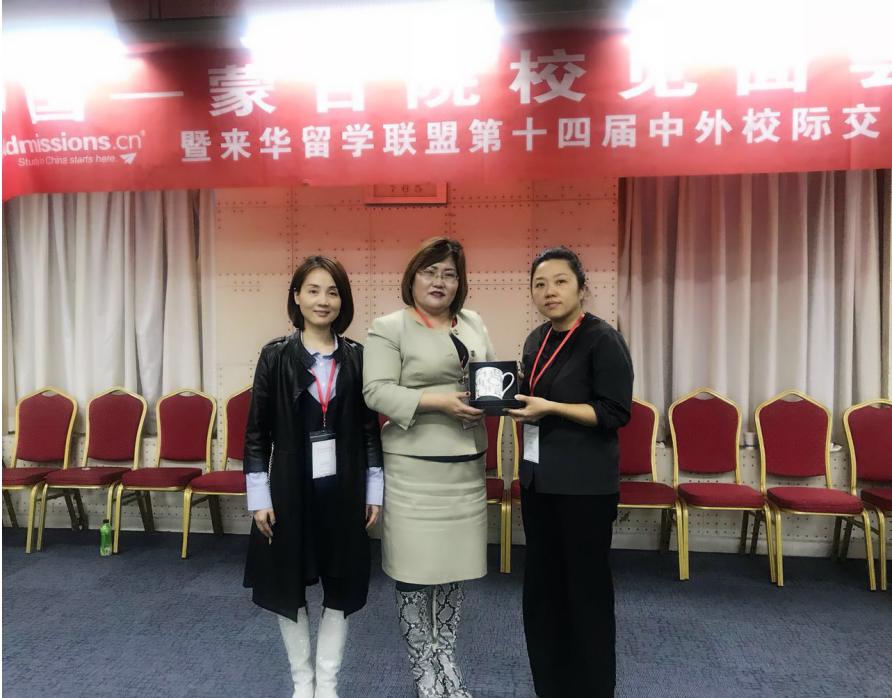 (蒙古汗乌拉区教育局局长奥贡克尔女士接受景德镇陶瓷大学礼物)
Director of Mongolia Ullah Khan DistrictEducation Bureau, Ms.O'gonkel, received agift on behalf of Jingdezhen Ceramic Institute
11月12日至13日,2017"中国-蒙古院校见面会,暨来华留学联盟第十四届中外校际交流会"在北京会议中心召开。
From November 12th to 13th, 2017, the "China - Mongolia University Meeting along with the 14th Sino-Foreign Intercollegiate Exchange meeting of Study In China Admissions.cn" was held at the Beijing Convention Center.
此次见面会由蒙古汗乌拉区教育局及其下属共计十所大学和高中以及来自中国各省市的14所高等院校派队参加。我校国际学院副院长张婧婧及教务科长杨帆参加了此次会议,就学校概况、专业简介和国际陶艺工作营等向来会者进行介绍。并与蒙古Orkhon大学及国际附中、国立第32P.Enkhbold纪念中学、国立第60中学、国立第75L.Enebish中学达成了合作意向。
The meeting was attended by teams representing the Mongolia Khan District Education Bureau and a total of its 10 affiliated universities and high schools, as well as 14 colleges and universities of China from many provinces and cities. The Vice-Dean of Jingdezhen Ceramic Institute's International School, Zhang Jingjing and the Section Chief of Academic Affairs, Yang Fan, participated in the meeting. They introduced the general situation of the university, professional status, the International Ceramic Studio along with many other aspects of the college to the conventioneers. The representatives of Jingdezhen Ceramic Institute managed to establish cooperation with several educational institutions of Mongolia, namely Mongolia Orkhon University, International Attached Middle School, National No. 32P.Enkhbold Memorial Middle School, National No. 60 Middle School, and National No. 75L.Enebish Middle School.
蒙古汗乌拉区教育局局长奥贡克尔女士表示,"陶瓷是中国传统文化的一种代表,而景德镇陶瓷大学着眼于此的艺术教育非常有特色,有着行内教育不可复制的优势,我一定会把这所美丽的大学介绍给蒙古的学生们。"
Ms. O'gonkel, Director of Mongolia Ullah Khan District Education Bureau, stated "Ceramic Art is a symbol representing Traditional Chinese Culture, and the art education focusing on ceramics in Jingdezhen Ceramic Institute is very distinctive. It has a unique advantage in education world. I will introduce this beautiful university to the students of Mongolian."